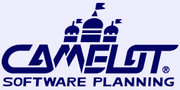 Camelot Software Planning is a Japanese video game developer founded in 1990 that was originally a subsidiary of SEGA. They were formerly known as Sega CD4 and Sonic! Software Planning prior to their partnership with Nintendo, after which they have become the primary developer of the Mario Tennis and Mario Golf series. They are the original creators of Waluigi, who made his debut in Mario Tennis on the Nintendo 64.
List of Mario games
Edit
Mario Golf (1999)
Mario Tennis (2000)
Mobile Golf (2001)
Mario Golf: Toadstool Tour (2003)
Mario Golf: Advance Tour (2004)
Mario Power Tennis (2004)
Mario Tennis: Power Tour (2005)
Mario Tennis Open (2012)
Mario Tennis Open U (2013)
Mario Golf: World Tour (2014)
Mario Golf: Open Tour (2015)
Mario Tennis: Ultra Smash (2015)
Mario Sports Superstars (2017, co-developed with Namco Bandai Entertainment)
Mario Tennis Aces (2018)
In Mario Golf: Toadstool Tour and Mario Power Tennis, Waluigi can be seen holding a sign with the Camelot logo on it when the games are booted up.