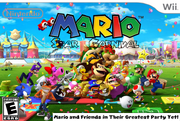 Mario Star Carnival is a Mario game that was released for the Wii in 2009. The game is based off of the Star Carnival from Mario Party 8 and was the last Mario game developed by Hudson Soft before their acquisition by Konami, who also developed this game. The game was released exclusively in North America.
MC Ballyhoo and his talking hat Big Top have invited Mario and the rest of the crew to the Star Carnival again, but this time with even bigger stakes. He has promised that whoever wins will be crowned the Superstar and will receive a lifetime supply of ice cream. This begins the battle between characters in the boards to claim the prize.
Following the style of gameplay in Mario Party 8, Mario Star Carnival takes the social, strategic game play of board games and adds breaks for quick, action-oriented minigames. In the main mode, players travel across six boards in search of Stars, landing on spaces that are either helpful or a hindrance by rolling Dice Blocks with numbers 1 to 10. As in Mario Party 8, the spaces on each board take different shapes, depending on the board. Several variations for these boards tweak the main goals to enhance gameplay.
Characters
Edit
Mario Star Carnival has a total of 17 playable characters; all 15 characters from Mario Party 8 return, and 2 new characters (Sonic the Hedgehog and Crash Bandicoot) have been added. Once again, Miis can only be played as in the Extras Zone, while Sonic and Crash can only be unlocked by purchasing them at the Fun Bazaar for 1000 Tickets each.
Team names
Edit
Debuting in Mario Party 5, players could fight in a tag-team match. In said matches, two players were paired together. In Mario Party 6, but not Mario Party 7, team names were chosen depending on which two characters were paired together. This is a returning feature. Here are all of the possible name combinations:
| | | | | | | | | | | | | | | | | |
| --- | --- | --- | --- | --- | --- | --- | --- | --- | --- | --- | --- | --- | --- | --- | --- | --- |
| | Mario | Luigi | Peach | Yoshi | Wario | Daisy | Waluigi | Toad | Boo | Toadette | Birdo | Dry Bones | Hammer Bro | Blooper | Sonic | Crash |
| Mario | | Mario Bros. | Power Players | Fan Favorites | Big Sarrios | Flower Players | 'Stache Clashers | Fungi Fun Guys | Soul Bros. | Marionettes | Super Snozzios | BBQ Ribs | Heavy-Blow Bros. | 'Stache Splashers | Old Rivals | Bandicoot Bros. |
| Luigi | Mario Bros. | | Waltzing Brawlers | Green Machine | Green n' Greedy | Tango Tanglers | Lean n' Mean | Savage Sidekicks | Scaredy Pants | Cha-Cha Chasers | Samba Smashers | Cry Bones | Longtime-Foe Bros. | Blooper Scoopers | Speedy Supers | Crash Clashers |
| Peach | Power Players | Waltzing Brawlers | | Kind Hearts | Sugar n' Spies | Damsels in Success | Sweet n' Sour | Loyal Friends | Boo-for-Teas | High-Flair Pair | Pink Superpowers | Dry Thrones | Glamour Hammer | Royal Flush | Royal Blue | Royal Crash |
| Yoshi | Fan Favorites | Green Machine | Kind Hearts | | Poached Eggs | Tomboy Trouble | Scrambled Eggs | Good Buddies | Hovering Friends | Flutter Friends | Egg Explosion | Sky Bones | Hungry Hammers | Double Dippers | Fleet-Footed Friends | Bandi-buddies |
| Wario | Big Sarrios | Green n' Greedy | Sugar n' Spies | Poached Eggs | | Mischief-Makers | Double-Crossers | Crazy Allies | Double-Dealers | Double Agents | Rotten Eggs | Dumb Skulls | Scammer Hammer | Drenched Stench | Road Hogs | Crash n' Brash |
| Daisy | Flower Players | Tango Tanglers | Damsels in Success | Tomboy Trouble | Mischief-Makers | | Double-Facers | Bloomy Shroomy | High Spirited Duo | Perfumed Shroomy | Gallopin' Gal-Pals | Daisy Pushers | Barn-Builders | Bloopsie-Daisy | Sonic Bloom | Hot-Headed Allies |
| Waluigi | 'Stache Clashers | Lean n' Mean | Sweet n' Sour | Scrambled Eggs | Double-Crossers | Double-Facers | | Half-Cranky Duo | Total Creeps | Half-Pranky Duo | Double Scammy | Boneheads | Stench Henchmen | Bloop n' Snoop | Spring Steppers | Uneasy Allies |
| Toad | Fungi Fun Guys | Savage Sidekicks | Loyal Friends | Good Buddies | Crazy Allies | Bloomy Shroomy | Half-Cranky Duo | | Doom n' Shroom | Zoomin' Shrooms | Surprise Attackers | Short Ribs | Stealth Strikers | Spray Players | True Blue Buddies | Wombat Wonder |
| Boo | Soul Bros. | Scaredy Pants | Boo-for-Teas | Hovering Friends | Double-Dealers | High Spirited Duo | Total Creeps | Doom n' Shroom | | Boo Duet | Unfair Pair | Scary Pair | Bad Vibes | Creature Feature | Speed Demons | Bandi-boos |
| Toadette | Marionettes | Cha-Cha Chasers | High-Flair Pair | Flutter Friends | Double Agents | Perfumed Shroomy | Half-Pranky Duo | Zoomin' Shrooms | Boo Duet | | Pink Powerhouse | Double Trouble | Smash Success | Bloop-dee-doo | Pinky Blues | Tickled Pink |
| Birdo | Super Snozzios | Samba Smashers | Pink Superpowers | Egg Explosion | Rotten Eggs | Gallopin' Gal-Pals | Double Scammy | Surprise Attackers | Unfair Pair | Pink Powerhouse | | Bone Chokers | Two-Timers | What-the-Bloop | Flashy Friends | Crash Flash |
| Dry Bones | BBQ Ribs | Cry Bones | Dry Thrones | Sky Bones | Dumb Skulls | Daisy Pushers | Boneheads | Short Ribs | Scary Pair | Double Trouble | Bone Chokers | | What-the-Deuce | Two-Toned Duo | Dry Bombers | Bandi-bones |
| Hammer Bro | Heavy-Blow Bros. | Longtime-Foe Bros. | Glamour Hammer | Hungry Hammers | Scammer Hammer | Barn-Builders | Stench Henchmen | Stealth Strikers | Bad Vibes | Smash Success | Two-Timers | What-the-Deuce | | Blooper Bros. | Hammer Slammers | Crash Smashers |
| Blooper | 'Stache Splashers | Blooper Scoopers | Royal Flush | Double Dippers | Drenched Stench | Bloopsie-Daisy | Bloop n' Snoop | Spray Players | Creature Feature | Bloop-dee-doo | What-the-Bloop | Two-Toned Duo | Blooper Bros. | | Squidmarks | Squid Spinners |
| Sonic | Old Rivals | Speedy Supers | Royal Blue | Fleet-Footed Friends | Road Hogs | Sonic Bloom | Spring Steppers | True Blue Buddies | Speed Demons | Pinky Blues | Flashy Friends | Dry Bombers | Hammer Slammers | Squidmarks | | Crash n' Dash |
| Crash | Bandicoot Bros. | Crash Clashers | Royal Crash | Bandi-buddies | Crash n' Brash | Hot-Headed Allies | Uneasy Allies | Wombat Wonder | Bandi-boos | Tickled Pink | Crash Flash | Bandi-bones | Crash Smashers | Squid Spinners | Crash n' Dash | |